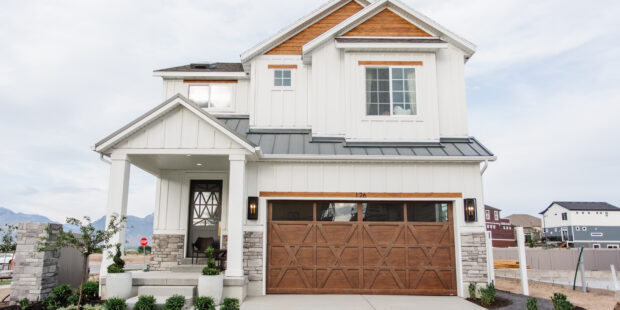 Healthy, Holistic Results: How a Group of Professional Women Came Together to Design a Happy Home.
By Jillian Prichard Cooke
In Utah's Wasatch Front, family-oriented communities emerge amidst hot springs, rivers, parks and trails, the perfect location for the Utah chapter of NAHB's Professional Women in Building to build the first all-women constructed home of its kind: The House That SHE Built (THTSB). Collaborating from a unique, holistic viewpoint, these trailblazing women from across the U.S. designed and built a high-performance, healthy and dynamic family home.
Architect Stefani Thatcher of Domani Home Design believes that balance in life is vital. Certainly, a well-designed home contributes to finding that balance in our everyday lives. THTSB, a 3,200 square foot home, was designed with that balance in mind; putting family functionality and comfort first. The layout of the home allows multiple uses for gathering spaces in the main, loft and basement areas, as well as individual reflective spaces in bedrooms and tucked-away niches. An abundance of natural light floods every room, making sure that moods will be lifted, concentration will be improved and overall health enhanced.
Stefani believes, "When you are healthy in all areas of your life: heart, might, mind and soul – and your environment is supportive, you will be uplifted and energized to add value to the world."
In the kitchen and main floor, designer Allison Campbell of Allison Campbell Design creates spaces where the overall layout promotes flow, fluidity and unity.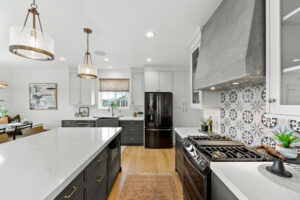 Embracing multi-functional spaces, Campbell says, "Things can get done in the kitchen while the children are working at the table or island."
With the abundance of light throughout these spaces, Campbell was able to choose a darker color on the lower cabinets, which grounded the space and created a light, airy and calming feel in the main gathering spaces.
The lead designer, Kimberly Parker of Kimberly Parker Design, focused on gathering spaces in the upstairs loft and the kids/flex space in the basement. Parker wanted the loft to be a place where children could focus on homework and do it efficiently. Skylights add even more natural light into the space, brightening the room and bringing the outdoors in. Wall sconces with downlights directed at the three homework spaces for better illumination reduce eye strain. The soothing blue-grey color of the cabinets encourages productivity.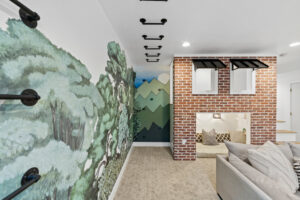 One of Parker's favorite features of this space, she notes, "is that computer screens can be readily viewed by parents at any time to help kids stay on task and enable transparency, developing behavioral strategies for good study habits."
Recognizing the importance of creativity and physical activity, especially during long Utah winters, Parker designed the basement play area to spark imagination and exercise, not video games and TV watching. A "Wild Things" inspired, hand-painted mural and a reading nook with an oversized floor mattress, pillows and bookshelves are pure inspiration for young readers and artists. Jungle gym bars and a rock-climbing wall encourage kids to be active. This flex area also includes a place to work remotely, which the pandemic has taught us can be an impromptu necessity.
Designers Randi Smith and Denise Johnson with Gardner Village created bedroom retreats with natural, soothing and spa-like features and color palettes. Smith and Johnson chose natural elements, such as raw wood, wicker, jute, ceramics, cotton and plants to bring the outdoors in, crafting spaces that invite you to unplug, meditate, read and rest. Natural light is important in these bedrooms, ensuring a source of sunlight to synchronize circadian rhythms.
Connecting homeowners' daily lives with their desired lifestyle, Rochelle Broadhead of Cambridge Home Company designs spaces that work. THTSB laundry room and bathrooms are filled with storage areas and simple, clean surfaces for easy maintenance. The laundry room includes designated spaces for clothes bins for effortless organization. Making clean up painless contributes to positive lifestyle habits and increased quality of life.
Beyond high-performance systems that deliver clean air and water, the architect, building team and designers were responsible for functional, healthy design that is both the foundation and the finishing touch of a home that is free of harmful toxins and abounds with wellness attributes. A holistically designed home provides all of these things to the family that lives within. THTSB brings physical, mental and spiritual wellness to its occupants with thoughtful, healthy design. This house reminds us how easy it is when everyone comes together to build a better home. Now you can remind the younger generation to read this story of determination in The House That She Built by Mollie Elkman and Georgia Castellano.
Jillian Pritchard Cooke is founder of Wellness Within Your Walls® (WWYW), an award-winning informational resource group that created a groundbreaking program designed to reduce toxins in living environments. Learn more at wellnesswithinyourwalls.com.