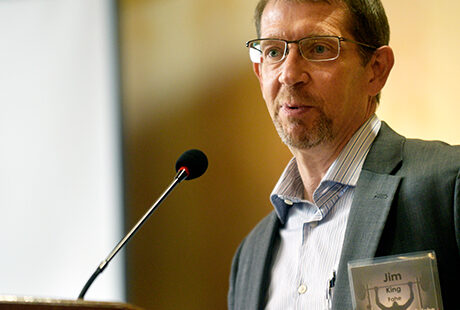 By Jim King
At a recent gathering of local community development experts, Executive Director Dave Clark of West Virginia-based Woodlands Development Group observed that the coronavirus pandemic had geographically accelerated pre-pandemic trends. Affluent cities that were already prospering pulled relatively further ahead, while stagnating, underserved localities fell even further behind. As a result, many Americans may have finally been jolted into awareness of a chasm that can no longer be ignored—the divide in the lived experience between those who are reaping the abundant opportunities of vibrant metropolitan areas and a rural remnant being abandoned in investment-starved, economically-asphyxiated hometowns and small communities.
With this pandemic-spurred awakening, policymakers are beginning to reckon with long-simmering questions about how our rural communities can adapt to a so-called "new normal" when they were only barely enduring the pre-coronavirus "old normal." How can a family that lacks access to affordable and basic broadband internet service hope to participate in a virtual job market? Where does a small town look to recruit new employers to replace its pandemic-shuttered businesses? Most of all, if America is truly the land of opportunity, then what can be said for the millions of families struggling to find economic survivability, let alone upward mobility, in the hollers and coalfields of America's heartland that hasn't seen a dedicated large-scale investment since the New Deal and the War on Poverty?
However, a blueprint for rural revitalization may be starting to take shape. Recently introduced by Senator Kirsten Gillibrand (D-NY), the Rebuild Rural America Act offers small towns and Main Streets in Appalachia and across the nation a fighting chance to compete with metropolitan hubs and keep pace in a rapidly evolving modern economy. This legislation would empower local leaders to leverage their expertise and on-the-ground insights to develop long-term strategic goals and plan capacity-building capital projects to realize them. Then, with the help of a newly-created $50 billion Rural Future Partnership Fund, these local leaders could bring long-awaited community projects to fruition.
Oftentimes, cash-strapped rural communities are at a significant disadvantage in competing against their better-resourced suburban and urban peers for state and federal dollars. Traditional Community Development Block Grants awarded by HUD frequently bypass rural areas. When state pass-through dollars are occasionally captured, they are usually swallowed up by basic infrastructure needs like sewers and water treatment plants that are operating well beyond their intended lifespan.
Moreover, high-poverty rural towns are uniquely encumbered in raising local revenue to meet matching-dollar grant requirements or to hire pricey lobbyists to help them access sophisticated funding mechanisms. These basic resource limitations leave creative public-private investment partnerships and complex aggregations of multiple program dollars to comprehensively fund big-ticket projects out of reach for most rural communities. As a result, rural municipalities rarely get the budgetary breathing room they need to look beyond the imminent shortfalls of next fiscal year, much less invest in future-facing modern infrastructure.
The Rebuild Rural America Act remedies this deteriorating cycle by explicitly dedicating Rural Future Partnership dollars for rural-only investments, offering a three-to-one prioritization for high-poverty areas without requiring local matching revenue. With the help of rural development specialists made freely available by the USDA, local leaders would have wide latitude to strategically channel these funds to specially-crafted projects, partnerships and services designed to meet their rural community's unique needs.
Such local discretion would finally free up the necessary capital for many Appalachian communities to build out next-generation infrastructure like high-speed data and broadband networks to entice virtual workers and start-up businesses. Likewise, the legislation specifically includes funding for workforce housing, which would not only serve to comfortably house a community's working residents, but also incentivize young professionals and recent graduates to live and keep their talents in their hometowns. Capacity-building investments like these could then be used to generate accompanying market demand for accountants, attorneys, restaurants, advertisers and a host of cottage industries and professions to support the needs of new employers and holistically revitalize the local economy.
Geography should not have to determine destiny in America. The symbiosis that has long existed between America's great cities and her heartland communities that provide the cultural, intellectual and economic lifeblood to the residents of each endures to this day. It needs only a renewed covenant of mutual good faith in the shared fortunes and human dignity of all people, no matter where they live.
Jim King is the President and CEO of Fahe.