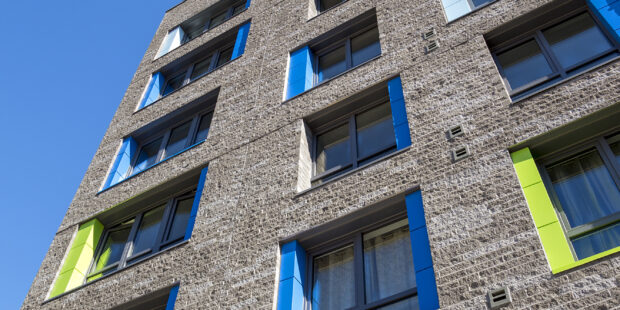 This mixed-use development is positively impacting its community through beautiful, sustainable and healthy design.
By Michelle Diller
The Third Avenue Development in the Morrisania neighborhood of New York City demonstrates that high performance can be achieved at all price points. This development is one of the Bronx's first Award-winning, LEED® Platinum certified buildings. Designed for Passive House (PHIUS) certification and implementing the NYC Active Design Guidelines, this mixed-use development further promotes healthy living.
Designing a mixed-used Passive House building was a unique design challenge to balance the different energy consumption with programmatic requirements. The team had to balance the total energy budget allowed by Passive House design criteria for the building's dual uses as residential and educational spaces, each with vastly different energy requirements. It provides efficient heating and cooling, LED lighting and reduced-flow plumbing fixtures that increases efficiency and helps residents keep utility payments in check.
Developed by Bronx Pro and designed by Curtis + Ginsberg Architects, this newly constructed eight-story, mixed-use building offers 30 units of affordable rental housing ranging from studios to 4-bedroom units and an early childhood educational facility. 14 of the rental units are for low-income families, eight rental units are used for moderate-income households and the other eight rental units are set aside for homeless households.
The project was awarded 2020 Best in Green Affordable Multifamily Community for the NAHB Multifamily Pillars of the Industry Awards and earned a 2020 LEED Homes Award for Outstanding Affordable Project.
The exterior façade comprises three systems: locally made concrete block, with 30% post-consumer recycled glass and 50% regionally concrete aggregates; metal panel; and exterior insulation and finish system (EIFS), which proportionately break up the tall and slender structure to relate to the surrounding neighborhood. This playful façade is highly visible from a distance, along with the trellis-like structure provided by the photovoltaic (PV) panels.
The insulated concrete forms (ICFs) and windows that meet Passive House standards provide a well-insulated envelope that minimizes energy loss. High albedo roofing reflects sunlight to reduce the cooling load.
The Third Avenue Development offers a range of other high-performance strategies. Some energy saving features include, energy recovery ventilators (ERVs), variable refrigerant flow (VRF) heating and cooling systems and energy-efficient windows, lighting and appliances.
Other high-performance amenities include, thermally broken structural elements, skylights to maximize natural light and photovoltaic array on steel dunnage, allowing for greater roof coverage and more installed panels. Lastly, the building includes native species plantings to minimize irrigation needs.
"The individual VRF heating and cooling units allow for comfort control within each unit, while controlling and maintaining overall energy management by limiting the ranges of heating and cooling within each unit," explained Mark Ginsberg, FAIA, LEED AP, principal at Curtis + Ginsberg. "Individual ERVs pretemper fresh outdoor air coming into the building, further reducing energy use. And lighting sensors in common areas, natural light in corridors and bi-level-lights with low levels in egress areas when unoccupied also offer a substantial reduction in energy consumption."
To maximize the 9,000-square-foot building footprint on its 175-foot-deep site, a central court divides the building into front and back. The courtyard also provides ample natural daylight into the corridors, which feature floor-to-ceiling windows and a community gathering place. The exterior colors correspond to the internal circulation spaces, and the staircases have brightly colored super graphics to encourage use. All residents of the 52,000-square-foot building have access to an expansive green roof with an occupiable roof terrace.
"This project demonstrates that quality housing can be both affordable and sustainable, and was designed to encourage community building," stated Ginsberg. "It replaced a dilapidated three-story auto shop and vacant residential building, and the new mixed-use building now provides affordable housing for multiple income levels and unit sizes to meet the growing housing needs of the Bronx and the larger New York City community."
Michelle Diller, PE, PMP, CGP, LEED BD+C is a Sustainability & Green Building Program Manager with the National Association of Home Builders where she provides technical expertise, education and advocacy in all aspects of high-performance residential building.