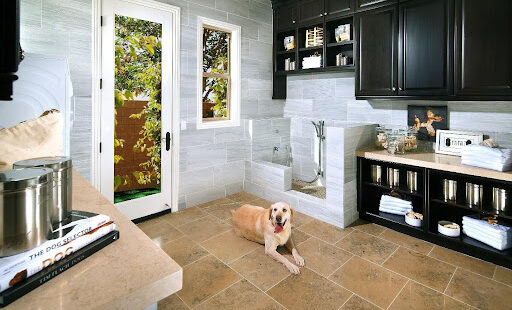 Sanctuary rooms: places to restore calm and reclaim wellness after life's hard working days and hectic schedules.
By Julia Malisos
The Pet Suite
Goodbye Men's Dens and She Shacks, hello Pet Suite. I'd be remiss if I did not bring this one front and center considering the amount of "COVID dogs" that joined families last year. The creation of multifunctional spaces, functional being the operative word, have become incredibly popular and appreciated by homeowners. These spaces are places where functionality is king, but aesthetic is the crown. The room can include grooming stations, pet supply storage and if possible, cubbies for our four-legged friends to comfortably relax.
In the transition back to normalcy, many pet-owners are now spending less time at home. Pet-oriented rooms can be good spaces for animals to ease separation anxiety, which many of these COVID dogs are experiencing, while providing homeowners a focused place to safely keep their pet while away for the day with all their supplies.
These spaces can double function as utility rooms, enabling storage solutions for household items, backpacks, grassy soccer cleats, and the influx of delivered packages. Pet suites are becoming popular because they are not only multi-functional, but can also be stylish and whimsical. For me, the walk-in dog rinse station is the perfect place to wash my giant labradoodle and dry off bathing suits upon returning from the pool. For colder climate homes and similar to mud rooms, these areas can provide racks for winter coats and trays for drying boots. This desired interior space continues to grow in popularity because it is convenient, sensible, and aesthetically pleasing.
The Sanctuary Room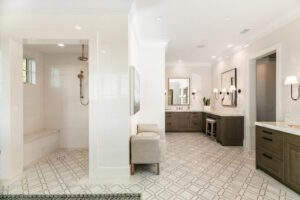 The intent of the sanctuary room is that they are places to restore calm and reclaim wellness after life's hard working days and hectic schedules. Sanctuary rooms can be big or small, interior or exterior. Designers are creating these spaces for mental wellness and/or physical wellness. Even in a bathroom, the power to have a restorative moment and a tranquil thought is powerful.
Sanctuary rooms should include calm colors and exclude clutter. Proper storage set-ups enable pristine surfaces and a sense of stillness, rather than chaos. The color scheme in the room is an important factor. Beige is a popular color, it is neutral, and when mixed with a bold color or plant installation, awakens the beige. Beige is an earth tone, so if you prefer to not use beige, natural materials such as light wood or stone provide the same grounded and calming effect. Beige can be elegant and offers a wonderful base for retreat spaces. Lighting can also work wonders with adjustable controls to brighten or dim, giving a room greater responsiveness to the owner's needs.
Although people have started returning to in-person offices, working from home entirely or in a hybrid condition remains. Home spaces that are multi-functional have been revolutionized. They are no longer the sealed-off home office with stacks of paper, a giant printer-fax machine, and a clunky desk. These spaces are sleeker yet still incredibly functional.
However, design features such as metal and glass sliding doors, interesting shelving units and chic yet comfortable furniture contribute to these desirable rooms. Transparent doors enable isolation for noise control with clear glass permitting natural light to pass through, even when someone has the doors shut for conference calls.
Attention to details such as shelves and cabinetry can provide storage but also contribute to the aesthetic, especially since it can be viewed from other places in the home (not to mention video call backdrops). Storage and appropriate furniture enable a functional workspace that is also stylish.

These glass offices are especially appreciated in smaller homes where space is limited, and flexibility is essential. Adding curtains or other similar screening methods creates temporary privacy, turning the room into guest quarters.
Curb appeal is important to provoke an initial feeling, but interior functionality is what brings people inner peace when they are at home. Creating interesting spaces can spark excitement through aesthetic, wellness through retreat, productivity through functionality and clarity through organization. Where we live (spatially) can impact how we live (mentally), and rethinking how homes can help us live allows for homeowners to experience better living.
Julia Malisos, LEED AP is a Principal- Planning/Community Design at WHA Architecture, Planning and Design with offices in Newport Beach, Long Beach, and San Ramon. Julia can be reached at juliam@whainc.com