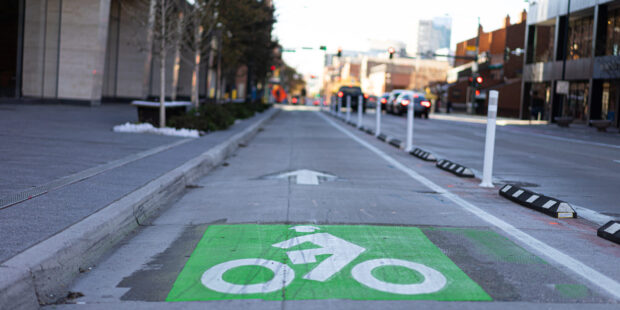 By Adam Phipps
With a motto of "innovate to thrive," Denver's Department of Transportation and Infrastructure (DOTI) is finding new and creative ways to deliver an ambitious slate of infrastructure improvement projects that will play a key role in the city's economic recovery from the COVID-19 public health crisis. While a bill to improve roads and bridges, create jobs and tackle climate change moves through our nation's capital, the efforts are already underway in Denver. And on the heels of a reorganization that enhanced our project delivery processes, DOTI is preparing to deliver a three-year capital investment portfolio of $1.6B before the close of 2023.
The ability to invest in infrastructure in these uncertain times is a credit to Denver voters, who've repeatedly passed measures making the City more resilient in economic downturns. Approval of the Better Denver Bond program in 2007, for example, pumped millions of dollars into the local economy during the great recession, funding more than 380 infrastructure projects; Measure 2C approved by voters in 2015 is currently helping fund an expansion of the Colorado Convention Center that's estimated to generate an additional $85 million in annual economic impact; and the Elevate Denver Bond program approved by voters in 2017 is investing $970M in 500 projects over ten years, including improvements to transportation.
To oversee implementation of these multi-million-dollar commitments to our community, DOTI recently launched a capital delivery program known as "SPARK", or the Strategic Program Acceleration & Recovery Kickstart program. This formal planning effort outlines the projects and corollary expenditures to be delivered over the next three years to stimulate the local economy.
Guided by Mayor Michael B. Hancock's Mobility Action Plan, DOTI is providing a pathway for economic prosperity with bold transportation advancements. Among them is the largest transportation project DOTI has ever embarked upon, which will bring Bus Rapid Transit to a popular east-west corridor before the end of the decade, providing an attractive transit service with improved travel times. Other approaches aimed at reducing vehicle congestion and moving more people, more efficiently, on city streets will mitigate the effects of rapid growth; new census data confirms Denver grew by 115,000 residents in the last decade.
Creating a multimodal transportation system requires changes in how city streets look and operate. While our streets primarily catered to travel by car in the past, the Department is now actively carving out space on its roadways for people to ride bikes and dedicating space for "transit only" lanes that make travel by bus a more efficient option. The Department is excited to be launching a microtransit pilot this Fall, allowing residents in one traditionally underserved neighborhood to access free rides to local destinations, including the transit station. And we're looking ahead with a planning effort called Denver Moves Everyone 2050 that's gathering public input to develop a vision for the future of transportation in our city.
At the forefront of everything we do is safety, and that includes implementing Denver's Vision Zero Action Plan to eliminate fatal and serious injury crashes. Acknowledging safer streets save lives, low-cost traffic calming treatments are being installed in many places and one of the city's biggest attractions – the 16th Street Mall – is about to be reconstructed to improve safety and mobility, reduce maintenance costs, and create welcoming new spaces for the public to enjoy. Another primary consideration for DOTI is equity – making improvements where they're needed most – and that includes along the roads and intersections where most fatal and serious injury crashes are occurring.
Amid the pandemic, DOTI is implementing new solutions to support local businesses and public health, including allowing restaurants and bars to expand into streets, parking lanes and other city rights of way to increase their space to serve patrons safely. Last year, DOTI also launched a temporary, shared streets program to give people more space to walk and roll outdoors amid social distancing guidelines. The temporary program is now transitioning into a comprehensive planning effort to determine what a permanent shared streets program would look like in Denver.
It has been a little over a year and a half since Denver residents voted to create a Department of Transportation and Infrastructure from what was previously Denver Public Works. With the public's backing and trust in our ability to create and innovate, we're building a transportation system to improve connectivity, economic opportunity, and quality of life, so that all residents – regardless of age, ability, income or neighborhood – have more and better transportation choices that make sense for their complex needs.
Adam Phipps is a licensed Professional Engineer and certified Project Management Professional, serving as Interim Executive Director of Denver's Department of Transportation and Infrastructure.