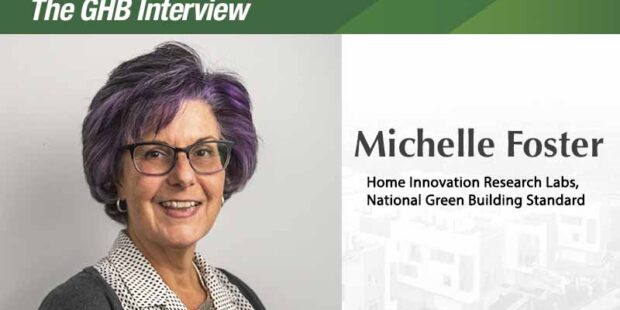 Green Home Builder: Tell us about Home Innovation Research Labs (what it does) and its philosophy.
Michelle Foster: Home Innovation Research Labs was founded in 1964 as a small product testing laboratory. Since then, we have since grown to become a full-service market research, consulting, product testing and accredited third-party certification agency dedicated solely to issues related to the home and multifamily construction industry.
Since our modest beginnings, our clients have grown to include stakeholders in every facet of the home building industry – including builders, product manufacturers, trade associations, and government agencies. As our clientele has grown, so have our facilities. Our headquarters office building in Upper Marlboro, Md., a suburb of Washington, D.C., is now joined on our 25-acre research campus by a state-of-the-art product testing and market research facility, as well as several outdoor evaluation areas.
Over our 50+-year history, Home Innovation Research Labs has been integral in solving many of the industry's most difficult product and technology issues and helping to introduce some of its most beneficial innovations. Our deep history and vast expertise help to inform every interaction our team has with others in the industry.
At our core, we are a third-party certification agency – and that is where the NGBS Green certification program fits in. NGBS Green certifies a building's conformance with the National Green Building Standard ICC-700.
GHB: Tell us about the certification process and why it's important.
MF: Third-party certification provides valuable benefits for many segments of our industry. For the NGBS Green program, in particular, there are three primary reasons it's so important.
First, it increases the trust a consumer can have in a builder's green claims. Simply put, a builder can say to a consumer, "don't take my word for it: this home earned NGBS Green certification from an independent, third-party certification agency." As a result, it is a great way for builders to enhance their brand. In addition, it is the single best way for builders to gain product differentiation within their market.
Next, third-party certification overlays a robust system of quality control (QC) on the entire design-build process. NGBS Green Verifiers become part of the project team, not only to verify NGBS compliance, but also to make sure that the building is designed and constructed the way it should be. I know with 100% certainty that if a building doesn't have a Verifier as part of the team, the building in the end will assuredly not be as well-built. For example, many builders pay for, and believe they are getting, Grade I insulation – but often our Verifiers find that is not necessarily what they get. Being an integral part of the team allows that third-party verifier to identify issues like this and help to correct them; or better yet, to ensure they don't happen at all with effective communication and on-site training. Builders should not expect what they are not willing to inspect.
Finally, because the Federal Trade Commission (FTC) has made it clear that unsubstantiated green claims can be misleading and deceptive for consumers, the third-party, independent NGBS Green certification gives them safe harbor of FTC compliance. The FTC has aggressively enforced violations against its Green Guides for non-compliant companies. NGBS Green certification is proof, according to the FTC, that a home is legitimately green. Further, as more companies look to strengthen their corporate ESG (Environmental, Social, and Governance) goals, NGBS Green certification is a straightforward way to demonstrate real commitment to both "E" and the "S" goals.
GHB: How important is the research your company does to the homebuilding/homebuying process?
MF: The product testing and building science research Home Innovation conducts is transforming the way homes are built, and we've been doing it for nearly 60 years. As a recent example, we helped design a cost-effective, wind-resistant high heel truss construction method that allows homes to be more energy efficient, even in areas prone to high winds. We work on real-world issues that develop inadvertently as a result of new innovations, such as those experienced by builders who use thicker rigid foam insulation on exterior walls. Ultimately, we try to bring together the benefits of building technology innovations, with the practical needs that must be addressed in order for builders to adopt them.
The deep building science expertise that is the lifeblood of Home Innovation Research Labs underscores and enhances what we are able to provide to our NGBS Green clients.
GHB: What are the benefits of your green building certification program?
MF: Bottom line, NGBS Green homes are better built homes that are a smarter investment for homebuyers. They are healthier to live in, more durable, more comfortable, and more affordable because they cost less to heat and cool.
Consumers want green, healthy homes. Builders seek NGBS Green certification to differentiate their homes from their competition. And NGBS Green makes sense for all types and sizes of builders in all markets. It works just as well for a builder who is new to green practices, as it does for the expert green builder who is building zero energy, zero water, super high-performance homes. NGBS Green allows a builder to earn third-party certification in an affordable and flexible way that provides value to buyers and renters.
Builders choose the NGBS Green program specifically because it is the only green building certification program run by an organization with nearly 60 years of residential construction expertise. Because of that deep experience, NGBS Green was designed to seamlessly integrate into the construction process. We are a credible, third-party certification organization. NGBS Green certifications have to be earned.
Builders can't be a "member" of Home Innovation and obtain a certification like a participation badge, the way some other programs work. But, at the same time, we work at the speed of the home building business by offering one-business day turnaround for questions, technical assistance, or processing certification documents.
GHB: What are some incentives for builders to go green?
MF: Aside from building a better home and offering buyers a better product overall, there are lots of incentives for NGBS green certification that vary considerably. Some jurisdictions offer tax credits, some make certification a condition of permitting. Over 30 Housing Finance Agencies have recognized NGBS Green in their Low-Income Housing Tax Credit (LIHTC) programs. And that's just the start. We have a comprehensive list of available incentives on our website.
GHB: What are the best energy-efficient/green qualities of the homes? (features, building materials, certifications, etc.)
MF: An NGBS Green home must achieve two objectives: (1) minimize its impact on the environment by using less energy, water, resources; and (2) provide a healthy and comfortable living space for its residents. Just being energy efficient is not enough; truly green homes must also address all the other green categories. NGBS Green is the only program that has an increasingly higher benchmark for every category of green – not just cumulatively more points across the board – in order to attain our certification.
Also, because it doesn't do any good to design a high-performance home if people can't afford it, affordability is another important component to green; and NGBS Green is one of the most affordable programs in the country.
GHB: Aside from the green/energy-efficient features, what are the best interior/exterior design qualities of the project?
MF: The best green homes seamlessly incorporate green products, features, and practices, into the home styles and amenities that their buyers want. Green can be as mainstream or as unique as the market desires.
GHB: What were some challenges in your field?
MF: The housing industry is a laggard industry. It is slow to change, and yet the pace of change accelerated considerably in the past 10-15 years. Until maybe 10 years ago, home building hadn't appreciably changed in over a century. Construction practices were stagnant. Then, building science research improved at a faster pace, or at least was dispersed more widely and quickly, and building codes started to mandate better, tighter buildings. It is harder for smaller builders to keep up with the rate of change and it is hard for all builders to keep ahead of the code without additional expert assistance.
NGBS Green offers builders the building science and expertise they need to keep apace of the change. Mediocrity and code compliance is simply an invisibility cloak for builders. NGBS Green is a mediocrity deflector! Our certification is a builder's superpower to high performing, superior homes. And who wouldn't want that?
GHB: Has COVID-19 impacted your work in any way? What are some safety protocols being instilled within the community?
MF: COVID helped us hone our certification process and enhanced our QA protocols. During the first six months of COVID, many projects understandably restricted access to construction sites. As a result, we developed a Virtual Inspection Protocol that Verifiers could use, as needed, with prior approval. NGBS Green staff observed many of these virtual inspections and we have found it a great opportunity to help our Verifiers do their job better and for us to provide better verification guidance with even greater efficiency. It also inspired us to add Virtual Audits to our QA protocol and as a result, at least 20% of our Verifiers a year will be subject to quality process audits; that benefits everyone participating in our program. Verifiers who do not earn at least a C grade or better on an audit, must repeat the audit within 6 months or risk losing their accreditation.
More importantly, COVID has helped to spotlight and elevate the importance of a home's indoor environment and how it can impact the health and wellness of its residents. In the future, as more people continue to work from home, having a healthy indoor environment will become even more important. And NGBS Green certification will be here to provide them a better place to call home.
Michelle Foster is the VP, Sustainability, Home Innovation Research Labs