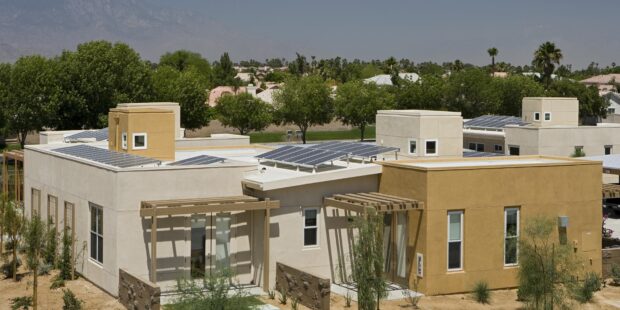 Low income housing receives new sustainable technology.
By Ron Nestor
Twelve years ago, I was a part of the team who designed the multi-award-winning Vista Dunes Courtyard Homes, the first LEED-Platinum affordable apartment project in America for National CORE and the city of La Quinta.
The project incorporated many innovative elements such as a thermal chimney in each unit, strategic and drought-tolerant landscape, drip irrigation, low-flow dual flush toilets, tankless water heaters and solar panels. With temperatures in the 100s for months, one resident showed me his single-digit electrical bill! It is estimated that Vista Dune's water-wise features save 1.9 million gallons of water annually. Lower utility bills result in more dollars that these residents can devote to other needs.
Many of those innovations have become standard as we implement the California Green Code. Today, we've teamed with BRIDGE Housing to create the next milestone achievement in sustainable design for affordable housing in Lancaster, whose high desert location experiences extreme temperatures (both hot and cold). The project is currently in design with a working title of HNR-1.
Lancaster has long been on the forefront of renewable energy, achieving its goal of becoming a net-zero electricity community in 2019. The California Energy Commission awarded Lancaster a $5 million grant to lay the groundwork for its "Advanced Energy Community," a comprehensive project to advance the City's ongoing objectives.
The Microgrid
The city's housing authority provided the 5.4 acre site for HNR-1's 114 affordable apartments located at a major intersection walkable to the downtown. It will incorporate one of the first large-scale, state-of-the-art electrical microgrids. BRIDGE, teamed with WHA, was awarded the project, designed to integrate with the city's street grid pattern. It provides clusters of 2-story flats and townhomes, mini courtyards and parking courts, culminating in a 2,800 SF clubhouse amenity. The project also provides four laundry rooms, two passive satellite recreational amenities, and several maintenance rooms.
The microgrid is an independent energy system that will serve this specific project with a solar system designed to provide all of the electricity needed. Battery storage is integrated to meet all time-of-day demands, including vehicle charging of one space per unit. The system will be tied to the local power grid for reserve needs.
The design of the microgrid included numerous consultants through a state-financed grant. These consultants had been working on theory, but no one had moved from theory to reality with this type of housing. The design team had to recompose the original scheme once more details of the microgrid infrastructure were determined.
Each segment of the project is broken into 7- or 8-plex groupings of units arrayed around a central utility core. This core has to address two alternative energy approaches that have yet to be finalized: individual battery storage for each unit or battery storage for each 7-8 unit building. The team must remain flexible as decisions are made.
New Architectural Theme
A Desert Modern architectural theme provides maximum solar fields on each building, each sized exactly for the anticipated energy needs. The mini courtyards are designed to provide sheltered pedestrian linkage from segment to segment, protected from the summer sun and winter winds.
The project is designed to provide high-quality rental housing serving the low income residents of the area, those earning at or below 60% of AMI. It contains a mix of 55 one-, 29 two- and 29 three-bedroom units meeting the requirements of the California Tax Credit Allocation Committee (TCAC). Other amenities include a tot lot, carports, a barbeque and shade structure.
With climate change driven failures of the electrical grid in Texas and Louisiana, the notion of utilizing the power that your development creates seems sensible. The first California Sustainability Decathlon will be held in Orange County in 2023, modeled after the Solar Decathlon held twice before in Irvine, Calif. Anticipated to be "the greatest design and build competition ever held," organizers note "Innovation is at the heart of California's green tech success" and ensures our state's long-term relationship in sustainability.
Working on ground-breaking projects like these is a welcome challenge to push and break through boundaries. What was innovative and forward thinking twelve years ago has become today's standard. Pilot projects such as BRIDGE Housing's HNR-1's advancements in electricity are vital for a cleaner future and should be standard in years to come.
Ron Nestor, AIA, LEED AP, is a senior principal of WHA | William Hezmalhalch Architects in Newport Beach, Long Beach and San Ramon, Calif. His focus includes commercial, mixed-use and high-density residential environments. He may be contacted at ronn@whainc.com.