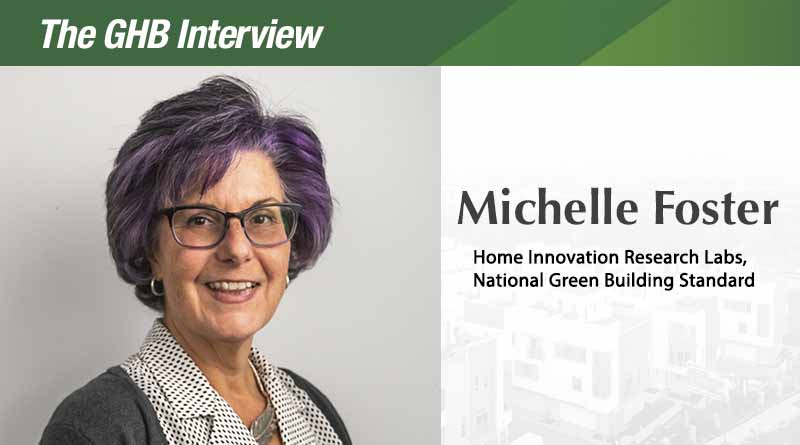 Considering going green? Michelle Foster of NGBS dives into how builders can make that transition.
GHB: Can you inform our readers about what the National Green Building Standard is and how it came to be?
MF: The National Green Building Standard ICC-700 is a green rating system for neighborhoods and residentially used buildings. It sets a definition for what it means to be a green building or development, and provides for five certification levels. While it is one of the ICC I-codes, it was designed to be a voluntary, above code program for builders and developers that wanted to build more sustainable, high-performing projects.
NAHB decided that there was a need to have a green building standard designed specifically for residential buildings, but they knew that for the standard to have any credibility, it needed to be developed though the stringent ANSI development process. In the mid-2000's they partnered with ICC to develop the National Green Building Standard – the first ANSI approved green building rating system for residentially-used buildings.
GHB: Walk us through the levels of certifications that the NGBS offers, and what the process is like to achieve those.
MF: Builders can select from Bronze, Silver, Gold, and Emerald certification levels, and with the new 2020 NGBS version they also have a streamlined Certified level for single-family homes, townhomes, and duplexes.
The certification process is simple:
1. Score the building: Builders can download a free NGBS Green Scoring Tool at www.homeinnovation.com/greenscoring. The builder selects what NGBS green practices they will include in the home. Your certification level will depend on how many green practices are incorporated into the home in each of the six green building categories.
2. Hire an Accredited Verifier: Verifiers can help streamline the certification process. The Verifier will register the home. Registration is free, but mandatory. Each home must be inspected at least twice, once before the drywall is installed and once when the home is complete. You can find a Verifier here: www.homeinnovation.com/FindNGBSVerifier.
3. Complete the NGBS Green Client Agreement. New clients will need to complete an agreement. A complete agreement provides builders with access to the NGBS Green marketing materials and the home will be listed at www.ngbs.com as "in-process" for certification.
4. Earn NGBS Green Certification. Once we have completed verification reports for the rough and final inspections and the certification fee is paid, Home Innovation will issue an NGBS Green certificate for the home.
GHB: Talk about the importance of builders having a third-party certification.
MF: Consumers are familiar with third-party certifications. They rely on third-party certifications because consumers are generally distrustful of the product claims that builders and real estate professionals may make. When you have a third-party certification, you can tell the homebuyer, "Don't take my word for it, this home was certified as compliant with the National Green Building Standard by Home Innovation."
Third-party certification is an effective way for builders to improve consumer trust, boost their confidence in your green claims, and increase sales. In short, third-party certification is the single best product differentiation strategy according to research, bar none.
GHB: One of the issues that commonly arises when it comes to green, energy-efficient homes is the cost building them. What would you say to homebuilders who might be hesitant to go that route?
MF: For the past 10 years, the market research has been irrefutable – buyers want an energy-efficient home. However, to be successful, builders need to figure out the sweet spot to balance additional costs with level of efficiency. There is a wide range between a code-minimum home and a zero-energy home. Further, while energy efficiency measures may cost a bit more, other green building practices may help save money.
The reasons that homebuyers desire an energy-efficient home vary, and it is important for builders to hone their message to their specific market. Too often builders solely rely on the message that energy-efficient homes save money, and that is often not the most persuasive reason. One message doesn't fit all for any home features, and that includes energy efficiency.
GHB: During strange times in regards to the wellness and health of the population, talk about the importance of "going green" at this time for not only builders, but for prospective homeowners.
MF: There is no question health and wellness are top-of-mind for every homebuyer. Over the last few years we have seen huge consumer interest in health and wellness and, more specifically, an understanding that where we spend our time can have a tangible impact on our well-being.
Fast-forward to March this year and many are working or schooling from home. And on a daily basis we are thinking about the risks of airborne pathogens, like COVID-19. It is a no-brainer that in addition to wanting sufficient space to work from, homebuyers will be interested in a home that will have a positive impact on their health and well-being.
GHB: What advice can you offer homebuilders considering going green?
MF: First, understand your market, your consumers, and your competition. Green certification can set you apart from your competition, but you need to first understand these three factors to make smart green decisions.
Second, find an NGBS Green Accredited Verifier early in the process, make her part of your team, and make an ongoing commitment to green. A verifier with expertise can help you make good decisions, work through any bumps in construction, and streamline the certification process. This will also save money.
Last, tell your green story! Some builders create great green homes but never convey that to their buyers. As home shopping and buying becomes more virtual, it has never been easier to make sure buyers know why your NGBS Green certified home is better than the competition. Detail how the green features in your homes are better for your buyers. Stick to easy-to-understand explanations and stay away from overly technical jargon.