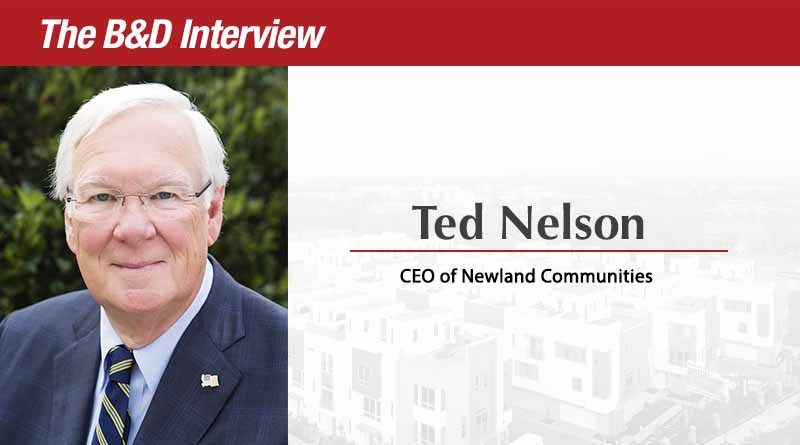 Chief executive of Newland Communities shares his insight on the housing market and what it takes to develop a successful master-planned community
Builder and Developer: As we continue to navigate through 2020 and the pandemic, in regards to developing, what are some trends that you've seen emerging?
Ted Nelson: 2020 has been quite the roller coaster, with a solid start to the year, followed by the COVID-induced stay-at-home orders, six weeks of slower sales activity, and now the rebound back to stronger home sales. The strength of the housing market has been rather amazing and, in my opinion, reinforces that what we do really matters to so many people.
Market conditions for housing were in great shape heading into the crisis, with low-interest rates, low supply of existing and new homes, and significant demand from Millennials in particular. Those strong fundamentals are asserting themselves again, and the health crisis is accelerating the attractiveness of the suburban options that our communities typically present. Backyards and quiet, less dense neighborhoods are more appealing when practicing social distancing, and more spacious, detached homes have the extra space to accommodate working from home and in-home schooling. Young singles, couples, and families, who may have been planning to purchase a home, have accelerated their timelines. They are looking to move quickly to find new construction, more space, better community surroundings and are taking advantage of never before seen interest rates. With the rebound in the stock market, we seeing activity increase again from our more discretionary 55+ home buyers.
BD: Newland has been the brains behind a plethora of best-selling communities and top master-planned communities. What are some key factors to consider when planning out a community?
TN: At Newland, we start with the customer to understand their wants and needs. We do extensive research and delve into what home shoppers want in a community, neighborhood, and home, what matters to them, and how they want to live. It's about knowing your customer and aligning with their priorities and what they value.
It is an organic process that integrates the land, the local area, and the expectations of those future residents. Each community is unique. We build places that are authentic to those looking to raise their families in our communities. Since we don't approach our business as a one-size-fits-all developer, you'll find a variety of homes, amenities, and features that are unique to each community and reflect how the customer wants to live, work, and play.
BD: Newland has always been known for being green, whether it's lessening the environmental impact or contributing to health and wellness of homeowners, even winning Green Home Builder Magazine's Developer of the Year for 2019. Can you talk about the importance of sustainability when it comes to housing and communities?
TN: Newland is committed to developing holistically, sustainable and thriving communities and businesses. We believe in the importance and value of sustainable practices and responsible community development through five areas of focus: 1) Local Community; 2) Open Space; 3) Water Conservation and Efficiency; 4) Energy Conservation and Efficiency, and 5) Connections. Our land stewardship focuses on placemaking practices that elevate a commitment to sustainability. We foster a vibrant lifestyle for residents of all ages while protecting our environment. For example, Briar Chapel in Chapel Hill, North Carolina, was the first community in the Triangle area to implement a comprehensive green building program, the National Green Building Standard. Since inception, our sustainable measures at Wendell Falls have saved our residents a whopping $1 million in energy bills and 7 million kilowatt hours of electricity through energy-efficient construction of all of the homes.
BD: Millennials now make up the largest cohort of homebuyers. Is there anything that stands out in regards to needs and wants for that demographic?

TN: Home shopping became virtual overnight, and we saw shoppers flock to new construction. Millennials, in particular, learned the meaning of "community" in a whole different way where buying new single-family homes is easy and "germ" free. Suburban locations with new construction homes resonate with these buyers right now as many are working from home and lack flexible space for home offices, home classrooms, additional play areas, and general storage. Those buyers with children are also navigating learning from home and need more space to balance online schooling with work calls. Outdoor space is critical with private backyards as well as trails and parks to get exercise and fresh air while keeping a distance. There is also an uptick in new home features like separate mudrooms, additional big-box retail storage, HEPA air filtration, and anti-microbial quartz countertops.

BD: Are there any upcoming projects that Newland is excited about? Any other news involving the Newland?
TN: Our Newland communities are continually evolving and changing based on the needs of our residents and future homeowners. We are in a continual feedback loop with the homebuilders in our communities and collaborate with them to help bring the latest and greatest in housing innovation to our communities. We operate in eleven states and the beauty of being a national mixed-use community developer is that we are continuously learning and improving on what we build. More so, we try to anticipate what a growing family or empty-nester couple will want before they know they want or need it. Some of our future goals are to broaden what we do with vertical development in the retail, office, and multifamily sectors where appropriate. Communities of the future will have a more integrated mix of uses, both horizontally and vertically integrated—to provide how people want to live, work, play, and shop, all within the community in which they live.
BD: What advice do you have for other developers as we continue to work towards a recovery?
TN: We aren't generally in the business of giving advice, but we have noticed that the current crisis has created more urgency around a pre-existing opportunity, and that is: improving the consumer home buying experience. Many aspects of traditional home buying are laborious for the consumer, and until recently, buying a home remained a somewhat staid process. At the same time, other areas of our lives were dramatically improved by technology. Because of the pandemic, more builders, developers, and salespeople have been pushed to adopt newer forms of technology sooner than they might have otherwise, simply because other methods were no longer workable. New technology platforms for residential real estate are also providing greater efficiency to builders and developers, enhancing their overall competitiveness.
BD: Anything we didn't go over that you'd like to touch on?
TN: The fundamentals of housing remain the same; virus or not. The demand and need for housing is driven quite simply by demographics and the relative supply of the housing products. At its basic, housing is not a discretionary purchase; everyone needs a place to call home. We're just glad when they make their home in a Newland community.