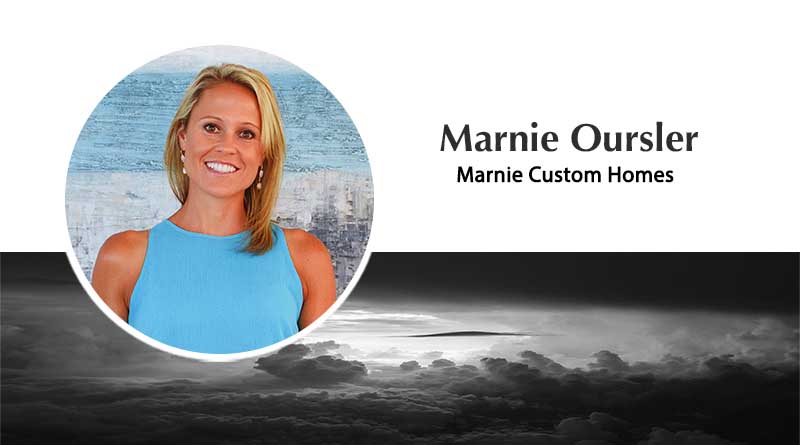 Female builder talks about her road to success in the building industry and her passion for building
By MARNIE OURSLER
As a woman in a male-dominated industry, my story is bit unconventional to begin with, made even more so when I also decided to start my custom home company—Marnie Custom Homes—in 2007 at the start of the worst housing crash in US history. As a fifth-generation homebuilder, I grew up in the construction industry, hanging around job sites, picking up trash and sweeping out construction sites. After graduating college, I made $11 per hour as a real estate assistant, where I saw firsthand the types of homes I never knew existed. It was during that experience that I decided to do whatever it took to build custom homes for myself and others.
During the early days, there were many challenges, but there were also an equal number of rewards. In the years to follow, I started using energy-efficient practices back when it was still cutting edge and built the first LEED-certified home in Delaware. My team and I began using reclaimed and recycled material to make clients' homes unique, and in 2013 we built one of the first 95% American-made homes in the country—during construction, 90% of all materials were used and 96% were recycled (Eco Beach custom home https://www.marniehomes.com/showcase/eco- beach-2/). I quickly learned that it is not only financially viable to use products and materials made in the USA, but there is also a plethora of other benefits as well.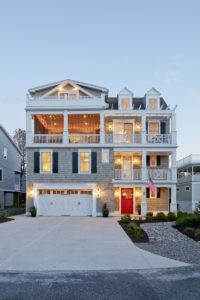 Thankfully over the years I've found that more and more consumers have opted to buy American-made goods instead of foreign imports – a choice I wholeheartedly support and encourage when building homes for clients. Driven by factors that include safety, environmental and ethical concerns, as well as good old-fashioned American pride, the Made in the USA label has seen a resurgence with benefits that extend far beyond just the producers of these goods. Our clients prefer building an environmentally-friendly house that will resist the damaging effects of wind, water, salt and sun.
Marnie Custom Homes also uses locally sourced materials. We work with a local mill, Old Wood Delaware, that helps us reclaim and reuse old wood. I build reclaimed accent walls, interior doors, bunk beds, and furniture from the old wood. A lot of times this wood is from old factories that were torn down in Baltimore, Maryland. I also reuse materials from clients' old homes. For example in the Bikinis & Birdwells project, I used their old hardwood floors to make their open kitchen shelves, fireplace mantel, and kitchen table.
With the recent events and effects of the COVID-19 pandemic, now more than ever it's important to support local brands and adjust our methods to rely more heavily on sustainable building. We've felt the effects as our supply chain has been disrupted since places are shut down, so we're getting creative as to how to transport materials to job sites. And although residential homebuilding is considered essential, many suppliers have suspended operations due to their employees' potential exposure. Overall, I've had to reroute deliveries and make adjustments to our "normal" sequence of building. Social distancing regulations are also slowing things down as we aren't permitted to have as many workers in the homes at the same time. My biggest challenge is keeping my workers healthy so we've set up strict social distancing rules, installed hand washing stations at each job site, and I've personally made hand sanitizer for all of my workers.
During challenging times, I like to keep in mind this saying from Brene Brown: "Anxiety is contagious and so is calm." I want to continue to spread calm and cheer via Marnie Custom Homes' social media channels, instead of perpetuating messages of anxiety and despair. Being based at the beach, I'm in a unique position as I believe the ocean can be a healer, so I share a different 15 second clip of the ocean as, "Daily Beach Therapy" on my Instagram and Facebook stories. I'm also sharing a daily beach house tour to give people an escape from reality. The response I'm getting has been overwhelming, so I'll keep it up until people can return to the beach again, and we all once again adjust to the "new normal."