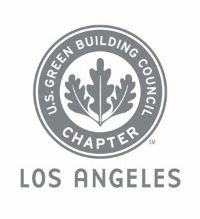 Recognized Community Leaders included LA Metro, Liberty Hill
Los Angeles, CA (December 12, 2019) – Last night at its 15th Green Gala, the Los Angeles Chapter of the U.S. Green Building Council (USGBC-LA) focused on "Community" as it presented the 9th Annual Sustainable Innovation Awards (SIA). 
The Project of the Year was awarded to the LADWP La Kretz Innovation Campus in downtown Los Angeles, followed by SIAs to seven more projects that went above and beyond in a range of categories. The USGBC-LA also presented Community Leadership awards, which included recognizing LA Metro, Liberty Hill, and the first ever Kevin Devine Award, presented to Shane Eaton of Brookfield Properties.
"USGBC-LA is about people, and using community as the theme of our Green Gala this year was not only a great way to honor that, but also to put our communities at the heart of the conversation around sustainability. Our members, who design, build and operate the environments where we spend nearly 90% of our time, do an amazing job of pushing each other to go further each year. These projects and the people who made them happen deserve to be honored to bring more attention to the work they are doing and to drive others to go even further," shares USGBC-LA Executive Director Ben Stapleton.
The SIAs affirm a project team's commitment to a sustainable built environment; honor projects that have already been envisioned, designed and/or built, recognizing exceptional achievement and innovation; and reflect the Chapter's emphasis on energy & water savings, air quality, good design, community engagement and equity. The SIAs are open to Southern California projects certified from the previous year under any sustainability rating system. The complete list is as follows (project teams at end of announcement):
Project of the Year
LADWP La Kretz Innovation Campus
Energy
Honor – Perlita Passive House
Merit – The Arroyo
Water
Honor – Matloff Family Home
Merit – Gateway at Willowbrook
Social Equity
Honor – Coronel Apartments
Honor – Paul Robeson Community Wellness Center
Health & Wellbeing
Honor – LPA Design Studios
Merit – Gateway at Willowbrook
SITES
Merit – Gateway at Willowbrook
[Click here to see a PDF of images and project teams for ALL the Sustainable Innovation Awards. High resolution images available upon request.]
The annual Project of the Year embodies not only a multitude of green building practices, but reflects the complete spirit of the SIAs. Highlights of the LADWP La Kretz Innovation Campus include:
LKIC is the first WELL v1 Core & Shell Gold certified and LEED v3 New Construction Platinum certified project in the country.
LACI (primary tenant) and LADWP (owner) have continued to work together to advance the sustainable operations of the building. Beyond completing LEED and WELL certification, post-construction LADWP and/or LACI have installed a microgrid, are undergoing a TRUE Zero Waste feasibility study, and are pursuing Net Zero Energy.
The Campus features creative and inviting designs including 2,100 plants on a living wall (maintained with a drip-irrigation system using recycled water), 100% storm water collection, a 175-kilowatt photovoltaic solar canopy with charging stations for electric vehicles, bioswales, and a pocket park serving the surrounding community.
The LKIC retrofitted a 1923 warehouse, diverting 98% of construction waste from landfills, and achieves a 32% energy savings proving sensitive laboratory conditions can be achieved with sustainable and low-energy solutions.
The communal park offers a space for the outside community to engage with the project, and the Friday building tours are open to the public to provide education to consultants and the public.
A post-occupancy survey reported a 98.9% overall satisfaction with the building's performance
"The Sustainable Innovation Awards recognize projects that exemplify sustainability, adaptability, resilience, health, and inspirational design. The project teams honored this year employed creative design and operational strategies that we hope will inspire our community to push the limits of standard practice. Thank you to all who submitted projects for consideration," shares SIA chair Amelia Feichtner of the City of Santa Monica.
In addition to the SIAs, the USGBC-LA honored the ongoing importance of Community to the USGBC-LA chapter and its goals by recognizing that spirit in eight people and groups. The Community Leadership Awards were selected by the Chapter leadership:
Environmental Justice Leader of the Year Award: 
Liberty Hill Foundation
Recognizing outstanding leadership in integrating the conversations around built environment, sustainability and equity.
Kevin Devine Award: 
Shane Eaton, Chief Engineer, US Office Division, Brookfield Properties
Recognizes an individual who is truly leading in sustainable building operations, both in the day to day and by setting an example for others.
Partner of the Year Award: 
Los Angeles County Metropolitan Transit Authority (LA Metro)
Recognizes outstanding leadership in leveraging influence to increase the prevalence of sustainable business practices across the Los Angeles region.
Community Impact Award: 
Joel Cesare, Google (formerly City of Santa Monica), MESM, LEED AP BD+C, LFA, WELL AP
Recognizes outstanding leadership paving the way toward a more sustainable future
Resiliency Award: 
J. Lopez, LA County Fire Department, Prevention Services Bureau, Forestry Division
Created this year to honor an organization or individual has made an extraordinary contribution to making our communities more resilient, especially in the face of climate change. 
Emerging Leader Award: 
Kanika Sharma, Senior Sustainability Consultant, Integral Group
Recognizes an individual who is still early in their career but is demonstrating industry leadership in pushing us all forward to a more sustainable built environment
Hearts of the Chapter:  
Eera Babtiwale (Inland Empire Branch Leader)
Julie Jacobson (San Fernanda Valley Branch Leader)
Recognizing two member volunteers who have gone above and beyond in representing their respective Chapter Branches.
[Click here to see a PDF of images for ALL the Community Awards. High resolution images available upon request.]
"We are grateful to celebrate the contributions of those we honored today, but also eager to dive into the year ahead," adds Stapleton. "In 2020 USGBC-LA will drive awareness around building and occupant health, increase education around fire prevention strategies and building materials, and activate our member base to help green schools and infrastructure throughout our region."
The Awards were presented during the Green Gala at the Los Angeles Athletic Club in front of a guest list of over 400 top industry professionals from local government, real estate owners and developers, architects, engineers, contractors, and LEED professionals. USGBC-LA works with anyone who is interested and engaged in collaborative sustainable initiatives.
The Green Gala is supported through the donations of many corporate partners:  Hero Sponsors – Southern California Edison; Advocate Sponsors – Building Skills Partnership, IRS Demo, and Rising Realty; Ally Sponsors – Able Services, Beneficial State Bank, Egan | Simon Architecture, FASTLinkDTLA, Hathaway Dinwiddie, Hudson Pacific Properties, Interface, Metropolitan Water District, University of Southern California, Vanir Construction, Los Angeles World Airports, and ZGF Architects.
Significant annual support for USGBC-LA comes from Arup, BuroHappold Engineering, ChargePoint, Clean Power Alliance, FormLA Landscaping, Howard Building Corporation, iES MACH, Kilroy Realty Corp., LADWP, Solatube, Southern California Edison, Southern California Gas Company, and Tishman Speyer.
Photos above of LADWP La Kretz Innovation Campus, provided courtesy of the Campus.
About U.S. Green Building Council-Los Angeles
Founded in 2002, USGBC-LA is a 501(c)3 nonprofit organization committed to creating a prosperous and sustainable future within one generation. Our mission is to accelerate all aspects of sustainability in the built environment by delivering access to knowledge, resources, recognition and networking. Learn, Share and Lead Green. (www.usgbc-la.org)
The 9th Annual SUSTAINABLE INNOVATION AWARDS – Project Teams:
LADWP La Kretz Innovation Campus
A SustainAble Production, LLC (ASAP), BuroHappold, LADWP, LA Cleantech Incubator, John Friedman Alice Kimm Architects (JFAK), AHBE, VCA Engineers, USS Cal Builders, Mackintosh & Mackintosh,
Perlita Passive House
ePHiciency, Verdical Group, Arcolution, Host, Nico Design, Superjacent LA, Lawrence Anderson
The Arroyo
Koning Eizenberg Architecture, Community Corporation of Santa Monica, Green Dinosaur, Promise Energy, OMB Electrical, Khalifeh & Associates, Stephen Billings Landscape Architecture, Benchmark Contractors
Paul Robeson Community Wellness Center
Community Services Unlimited, Inc., Gaia Development, Department of Places, Mata Construction, Ibarra Structural Engineering, Robert Ginsberg & Associates, Fruchtman and Associates, Silver, Roth and Associates, GRID Alternatives, IRS Demo
Coronel Apartments
Hollywood Community Housing Corporation, Killefer Flammang Architects, VCA Green, Donald E. Dickerson Associates, AHBE, Westport Construction,
LPA Design Studios – Irvine Headquarters
LPA Design Studios
Gateway at Willowbrook
FormLA Landscaping, Thomas Safran and Associates, Withee Malcolm Architects, LLP, Diamond West Inc., KPRS