Recently given a Gold Nugget Award of Merit for Best Affordable Housing Community, Roderick Artspace Lofts gives artists and their families affordable and efficient housing in Texas
In December 2016, Jordan Foster Construction and Artspace, a non-profit organization, completed work on Roderick Artspace Lofts in El Paso, TX. Since then, the building has achieved a LEED Silver Certification from the United States Green Building Council, with some of the green features including the remediation of a formerly toxic site, proximity to public transportation, LED lighting throughout, appliances throughout the building that are Energy Star-rated, and faucets by Kohler that control water flow efficiently in bathrooms, kitchens, and communal spaces. Most recently, Roderick Artspace Lofts won a Gold Nugget Merit Award at the 2017 Pacific Coast Builders Conference for its outstanding contribution to affordable green building.
Roderick Artspace Lofts was developed by Artspace, an organization dedicated to creating facilities that support artists across the country. Artspace learned of El Paso's need for affordable housing when the organization conducted a survey to which over 400 local artists responded indicating interest in access to permanently affordable, quality spaces to live and work. "Artspace worked closely in partnership with the El Paso Community Foundation and the City of El Paso to bring this project to life. Chris Cummings, Sr., Katherine Fulwiler Brennand, and Chris Cummings, Jr., generous, charitable supporters of the arts community in El Paso, acquired and donated the land for the project, and worked with the city authorities in zoning the development site," said Mark Gudenas, corporate communications for Jordan Foster Construction.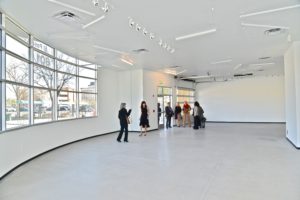 "It was key to locate it close to the arts scene and arts community of El Paso. The site chosen for Roderick Artspace Lofts was a vacant lot in downtown El Paso, adjacent to the core of the City's revitalization efforts, and next door to a busy, established high-rise hotel. The location was also nearby to the community's strong collection of municipally managed institutions, which include El Paso's Children's Museum, Art Museum, Science Museum, and Theater," he said of the site selection for the project.
During construction, some challenges were faced. "The project site was located on the former location of an old fueling service station, which required the remediation of some potentially hazardous soil early on in the project. Additionally, the project team encountered unforeseen pockets of clay, which were later determined to require a significant amount of over-excavation and import of select fill material," said Gudenas.
Since the building is designed for creatives, the architecture was thoughtfully designed to enhance the space aesthetically. "Working with the designated budget, HHL Architects, in collaboration with ASA Architects, designed the mixed-use project with an industrial focus, using a creative 'blank slate' for the interiors to minimize the cost of the interior build-out. Jordan Foster Construction performed value engineering at every opportunity to minimize the construction costs and keep the project on budget," said Gudenas.
The urban infill project has zero lot lines and brings the building up to the sidewalk, but a central courtyard gives residents a comfortable outdoor area to gather and entertain. "The total building size is 69,802 square feet, and there are 51 one-, two- and three-bedroom units in Roderick Artspace Lofts, ranging in size from 815 square feet to 1,638 square feet. There is also 5,000 square feet of multi-purpose, nonprofit commercial space for creative businesses, a large community gallery, and a shared workshop on the ground floor, which provides space for artist and community groups for meetings, events, exhibitions, collaboration, and performances."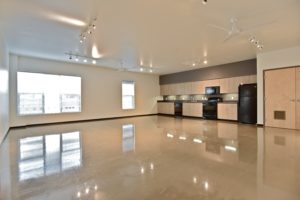 "Jordan Foster's Construction Superintendent and Assistant Superintendent did an outstanding job of maintaining quality control inspection logs, which included corresponding color-coded maps of each floor that allowed all of the subcontractors, engineers, and owner representatives to clearly review progress and confirm required, progressive inspections," said Gudenas. "Pre-installation meetings were held with subcontractors and engineers for all trades to discuss quality requirements and expectations, which allowed Jordan Foster to maintain a high level of quality and prevent any costly re-work," he continued.
The interior features apartments with open industrial lofts filled with natural light thanks to low-e windows. When the sun goes down, track lighting illuminates the units while sleek, grey cabinetry in the kitchens complements the industrial look, as do faucets by Kohler. "We chose lowconsumption/ low-flow devices (i.e.: water closets, faucets, shower heads) reducing the daily water utilization of the building project by over 40%, compared to that of typical apartment projects. As an additional water consumption reduction, we utilized low-water vegetation and high efficient watering devices for the municipal-required site landscape irrigation," said Matt Meier, architect on the project. "Everyone involved in this project worked closely together from the beginning to make it a reality, and participated in multiple planning charrettes to launch the project," Gudenas said.
Jordan Foster Construction is currently working on several multifamily projects in the Texas market, including other projects El Paso, as well as development in San Antonio, Austin, Houston, and Dallas. Highlights include The Mondrian, a nine-story condominium structure; Riva at the Park, a luxury condominium; The Lookout at Lake Highlands, a LEED-targeted, 259-unit mixed-use development; and Wellstone Craig Ranch, a 176-unit, upscale multifamily community designed for the over-50 market. To learn more, visit jordanfosterconstruction.com.